Be BAD! Package Deal
9781562BEBAD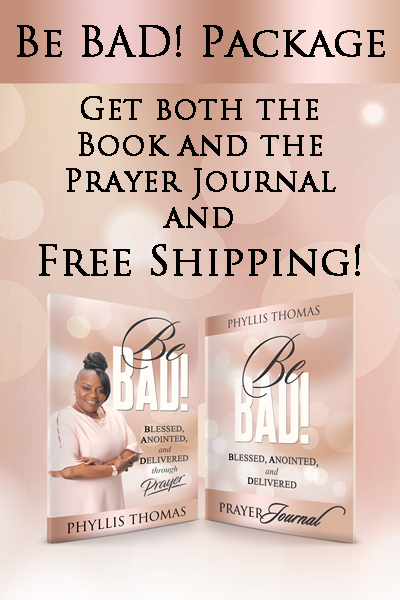 FREE SHIPPING!
Get both the book and the prayer journal in one package and receive free shipping. Develop the tools that empower you to be BAD – Blessed, Anointed, Delivered. With this series, praying, reading the Bible, and hearing from God will become your lifestyle, not rituals.
The affirmations, prayers, inspirational thoughts, and questions are designed to stimulate your thoughts, cause you to reflect, and motivate you to action. Each day you use this resource you build your spiritual muscles. Before you know it, with the daily Bible reading chart, you will have covered the entire Bible.
This prayer journal includes:
Thoughtful questions to help you process and keep you engaged
A monthly topic, scripture, prayer, and challenge
A daily checklist to keep you on track
A read the Bible in a year chart
A-Z affirmations and prayers
An answered prayer chart
Let the power of Spirit-led prayer, journaling, and affirmations create your new reality. Do the work to develop great habits and a healthy spiritual life. Whether it's for personal worship, or group study, this is the perfect resource to build a stronger relationship with Christ!
This book is a practical masterpiece that will provoke a desire within you to develop a more intimate relationship with God through prayer. Whether you are new to the faith or have been serving in God's Kingdom for years, your prayer life will never be the same after reading this book. –Phonechia Thomas-Harrison
This is a power-packed, strategic manual for prayer! Lady Thomas teaches the essential components for Christian living. This book will change you! –Cynthia Alexander
Lady Thomas strategically unveils how to develop a strong prayer life that will equip you to overcome the fiery darts of the enemy and draw closer to God. –Dr. Symone Starr Parker
I was 430 pounds, battling internal demons, suffering from insecurities, and seeking validation in all the wrong places! Lady Thomas was the healing agent I desperately needed. –J. D. Gunn
This is a great read! I could not put it down! How wonderful it is to know that eloquence in speech is not a prerequisite to God hearing and answering prayer. The only necessity is to just pray and be BAD. –Evangelist Michelle Perkins
Lady Thomas has not only built a close relationship with Him, but she has helped others experience Him on a deeper level. So, get ready to strut in the promise and bring others with you. –Samantha Moorer
Be BAD is a must read! This book will challenge those seeking a transformational experience in their spiritual life of disciplines. –Dr. Beverly Willis
ISBN:9781562BEBAD
Binding:Paperback
Page Count:96 and 72
Trim Size:8.5" x 11" and 5.5" x 8.5"