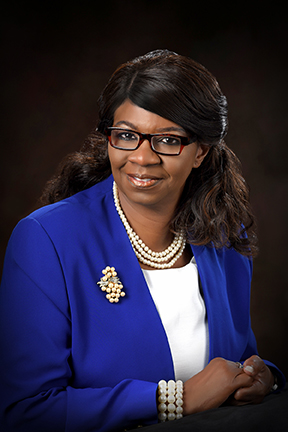 Sharell Ali McIntosh was born in St. Matthew's Parish on the island of New Providence in April 1966, just nine months before the attainment of Majority Rule in January 1967.
Enjoying the privilege of being raised in a Post-Colonized Bahamas, S. Ali McIntosh, as she is professionally known, is a student of history and a first-generation product of an Independent Bahamas and a Government Educational system, graduating in 1983 from the renowned R.M. Bailey Senior High School in Nassau.
Brought up in a home with two talented pastoral parents, Ali is an avid reader, and has been involved in leadership in Church work all of her life, spending the last 27 years as a Prayer Intercessor and Lay Preacher & Lay Administrator, in the Bahamas Conference of Seventh-day Adventists.
Trained as a newspaper Journalist, and a Radio & News broadcaster with the Government-Owned Broadcasting Corporation of The Bahamas since the 1980s; Ali is a well-sought-after Radio and TV talk-show guest, bringing a fresh perspective to national and topical issues facing the nation.
Her community work with the youth advocacy organization she founded in 1995, the National Committee for Youth Renewal & Revival, has landed her a 'Humanitarian Award' in 1997, and a 'Changing A Generation Award' in 2001 by The Bahamas National Gospel Excellence Awards. 
Her work with civil society spans more than two decades as a voluntary Strategic Planner and Consultant in Urban Development; the Royal Bahamas Police Force Consultative Committee;  the Bureau of Women's Affairs, now the Department of Gender and Family Services;  and an Executive Officer of the National Organization of Women's Association of The Bahamas (NOWAB);  among other ongoing Children Rights, Women Rights, Gender-Based Violence Legislation, and Community Enrichment Projects she still participates in.  
She has authored her own syndicated weekly newspaper column Answering the Call for several years in the 1990-the 2000s and has drafted several working documents for youth and urban development; have contributed to several Bahamian Consultative Reports on Youth, Crime, and Urban Development; and drafted a private legislation for Parliament in 2016 on Electoral Reform. 
She is the founder of the 22-year-old Bahamas Constitution Party, in which she serves as its Servant Leader.  This has created many firsts for her becoming the first woman in The Bahamas to ever organize and found a political party; the first woman to lead a political party into General Elections, in May 2012 and 2017 respectively; and the first woman to contest a Bye-election in the Bahamas, when she ran in North Abaco in October 2012.
She has attended numerous United Nations-sponsored conferences, in addition to representing The Bahamas on three occasions, at the United Nations General Assembly on the Commission on the Status of Women in New York, including in 2019 at the 63rd CSW; when she was introduced to HRH Sophie Duchess of Wessex, who represented the Commonwealth on behalf of Her Majesty HRH Queen Elizabeth, Head of The Commonwealth.
In 2018, Ali received the 'Sir Lynden Pindling Nation Building Award' in January from The Grace Centre (Bahamas) for her effort to keep the work of the founding fathers before the nation; and was honoured in December by The Esther's Ball Network for Outstanding Women in Ministry, in the area of Politics. 
Currently, she serves as the Chairman of the Josiah Institute for Leadership & Public Policy (Bahamas / U.S.A), a Leadership Development & Training School, she formally established in 2018; and is the President & CEO of  S. Ali McIntosh & Associates Leadership Consultants, a consultancy firm she created, which provides a fresh perspective and focus to leaders in business, civic organizations, political and governmental institutions, in the areas of human development, productivity specialists, and ethical wisdom.