TYRONE "PAPA SAN" THOMPSON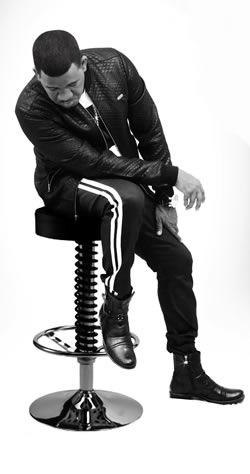 Tyrone Thompson, known as Papa San, was born in Kingston and grew up in Spanish Town Jamaica. Realizing his musical gifts from an early age, at the age of twelve, he was singing, creating music, and performing with other artists more than twice his age.
Having had his first smash as a teenager in the mid-80s, Papa San's phenomenal, on-going reign on international music charts earned him the nickname Marathon Man. It was not uncommon for him to simultaneously hold down several positions on the Top 10 and long runs at No. 1. He has released two Billboard No. 1 singles, seven Billboard top 10 gospel albums, and one Billboard No. 1 gospel album.
In 1994, he filled dance floors around the world with "The Programme" which made him the first Dancehall artist to hit No. 1 on the Billboard dance chart. It was his unique blend of traditional Reggae and his intricate, mesmerizing style of rhythm and wordplay that became popular with the mainstream Hip-Hop and Rap circles in America. His smash hits include "I Will Survive", "Hippity Hop", "Legal Rights", "Pray Fi Dem", "Strange", and "Maddy Maddy Cry".
In 1997, Papa San began a spiritual journey. He and his wife accepted Christ and his musical focus shifted. The content of his songs changed to convey his newfound faith in the Gospel but the mighty grooves, unforgettable hooks and mile-a-minute words and rhymes continued to be a trademark. His astounding international success and signature sound has established him as a visionary in Reggae music while being anchored in Kingdom building.
Since 1997, he has released several top ten billboard gospel albums to date and has collaborated with the likes of Kirk Franklin, Toby Mac, Percy Bady, Chevelle Franklin, Natalie Wilson, Israel Haughton, Trey Lawrence, Nicole C. Mullings, Carlene Davis to name a few.
His 2014 release, "One Blood", featured Lecrae, Da' T.R.U.T.H. and Fred Hammond. His seventh studio album "Journey" debuted at number seven on the Billboard Reggae Albums chart. It was the only gospel project in the top 10. "Journey" showcases his relationship with Christ through the years, how he overcame obstacles of the past, how he faces challenges of the present and how he keeps grounded in the faith wearing the many hats of Pastor, husband, father among all the other roles he assumes daily and what he looks forward to in the future. Guest artists include Michelle Williams, Tasan and Stef Silva, Alexis Spight, Omar and Tyrone Andrew, and Nichole Salmon.
Papa San is a trailblazer in Gospel Reggae, and is still known as Jamaica's fastest lyrical speaking DJ. He has emerged to the forefront in music and in ministry as a leader and an innovator. Few have found the level of commercial success in the reggae and gospel arenas as Papa San. He is an acclaimed artist winning a GMWA, Stellar, Tamika and twelve Marlin awards as well as Dove and Soul Train award nominations. He has built an extensive fan base throughout the Caribbean Islands, Japan, Europe, Africa and the United States. With over 35 hits singles to his credit, he has impacted music charts and radios around the world.
Ordained ministers, Papa San and his wife, were launched into pastoral ministry and founded Our Fathers Kingdom Ministries International in Sunrise, Florida.