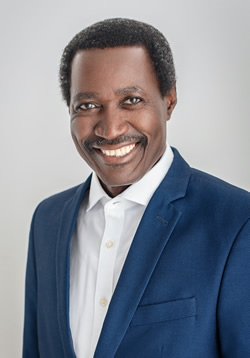 Dr. Abu Bako is a greatly gifted man who possesses a wealth and diversity of different aptitudes. An Economist by profession, a former lecturer in Economics and Senior Researcher in Agricultural Economics for several years, he is primarily a people-builder, a specialist in training, equipping and developing quality leaders at all levels of public life, in all the 8 Gates of Society©️ which are Family; Belief System; Government, Governance and Leadership; Economy and Business; Education, Science and Technology; Media; and Arts, Sports and Culture.
A pioneer and groundbreaker in many fields, he is bold to challenge the status quo and initiate change where necessary. An international conference speaker, he is constantly on the move because of the wealth of knowledge and extraordinary depth of insight he has into matters pertaining to life and service in all the 8 Gates of Society©️.
Dr. Abu has spent over three decades researching these matters and his in-depth analyses pinpoint the root causes of the mass collapse of systems and structures across the board in these challenging times. He has been able to come up with proven solutions and thus has become a catalyst for driven holistic change and transformation.
Dr. Abu hosts and leads meetings, seminars, summits, and conferences in all the above-mentioned areas in different nations, among which are Africa, Asia (including the Middle and Far East), North and South America, the Caribbean, and Europe. He operates as a consultant to some national leaders, organizations, institutions, and governmental bodies in the area of Politics, Economy and Business, Education, Science, and Technology amongst others.
An Educator, Dr. Abu is pioneering new curricula that seek to transform the way children have been educated in the past by introducing new teaching strategies and content aimed at optimal child development as opposed to the old systems that have not helped the proper development of our nations, especially the nations of Africa. His heartbeat is to see the African continent transformed, and he drives development strategy where it matters, at leadership levels.
He is a trailblazer and a pace-setter. In today's world where integrity is hard to find, this man stands up and out. He has a calm assuring personality, carries great authority with a quiet dignity. He exhibits a depth of humility that is all too uncommon in people who possess such an extraordinary level of wisdom and intelligence. He is inspiring and leaves a lasting impact wherever he goes.
Dr. Abu is President of the College of Sustainable Transformation and Development (COSTrAD). COSTrAD, an Education and Learning Hub, comprises 8 unique institutes that train students on positioning and harnessing their skills to become key resource persons in their nations in all the 8 Gates of Society©️. The institutes are the Family Development Institute, Mindset Transformation Institute, Institute of Governance and Public Policy, Institute of Economic Affairs, Education, Training and Development Institute, Institute of Revolutionary Science and Technology, Media of Communication Institute, and Institute of Arts, Sports and Culture. Annual five-week sessions of COSTrAD and Mini Versions of both COSTrAD and these institutes have been held in Ghana and Egypt since 2015.
Dr. Abu has a very broad knowledge of health issues, gained through decades of extensive research into natural healing and other dimensions of health. His thrust is the importance of disease prevention by developing and maintaining sound health practices. His knowledge in this area and collaboration with some health professionals and researchers has positively impacted quite a number of people with stubborn health challenges, including issues relating to prostatitis.
As an agricultural economist and researcher, Dr. Abu undertook innovative research into the causes of a high level of loss of perishable farm produce, especially those from Northern Nigeria to other parts of the country. In collaboration with some members of the Moringa Association of Ghana, Dr. Abu led one of the best formulations of moringa capsule supplements. Also, he has single-handedly developed a unique model for moringa crop cultivation that could improve yield exponentially.