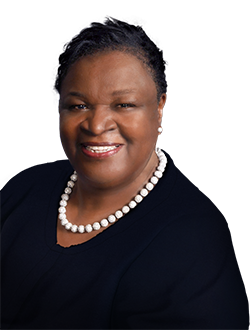 Alfreta Elmore Woods is an active member of Broadview Missionary Baptist Church, where she serves faithfully under Interim Pastor Christopher C. Robinson Sr. She is gifted in the areas of teaching, administration, and encouragement and prayer. She has functioned as a Bible School, Sunday School, and Vacation Bible School Teacher, Superintendent of the Adult Sunday School, Christian Education, Women Missionary Union and Sunday School Assistant Directress, and a Teacher's Trainer.
She currently serves on the Pastoral Search Committee, Teachers' Development Trainer, Missions Prayer Directress, Tuesday Bible School Directress, and Prison/Jail Ministry Leader. Sis. Woods has conducted workshops and provided teaching training for the Illinois Baptist State Association.
Her educational pursuits have taken her to Moody Bible Institute where she earned both, a Bachelor's Degree in Biblical Studies, and a Master's Degree in Ministry.
She retired from the Illinois Department of Revenue in 2014 after 25 years of service.
She shares her life with her husband Douglas Woods, Sr. to whom she has been married for over 36 years. She also enjoys the pleasure of sharing her love with her 3 adult sons, Cledis, Kelvin, Douglas II, and a wonderful daughter in law, Rita.
During her spare time she enjoys travelling, dining, shopping, working out with the senior exercise group, and surfing the internet.
Most importantly of all of her accomplishments, was when she came into a saving knowledge of the Lord Jesus Christ. Her deepest desire is to do the will of God, and make Christ known to all people.
"As I sit here pondering the words to reflect my gratitude to you for all that you have done for me, I find myself absent of the appropriate words. The truth is, that when you find yourself in the midst of a genuine child of God (as you are), the anointing of the Lord is so strong on your life until it leaves me in awe of what to say. You were such an inspiration to me, as well as a motivator and an encourager to me about my book, Strategic Prayer Manual. I praise God for the divine connection He orchestrated in bringing you into my life. You are a true blessing to your establishment, and I praise God for your faithfulness and dedication to your work and to your clients. It is my prayer that the Lord will release the blessings of His Anointing upon your life, your family, and your ministry to a minimum of 100-fold, in Jesus name. So, if you are a new author in search of a publisher who demonstrates the love of God, I highly recommend Kimberly Stewart at Christian Living Books. I will rate it 5 stars." Alfreta Woods