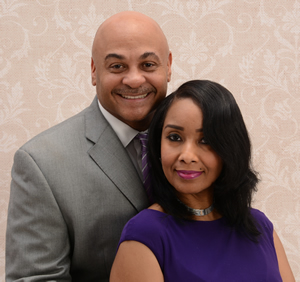 Rev. E. Blake Scott has been a preacher of the gospel for more than 14 years and serves as an associate minister at Canaan Baptist Church. He is also a Sunday school and Bible study teacher.
Melecia Scott, is an anointed motivational speaker, mentor, Bible study teacher, Sunday school teacher, interpreter for the deaf and Director of the deaf ministry. A prolific writer, she is the author of The Meeting and Ain't Nobody Mad Except The Devil.
The Scotts have spear-headed the Evangelism Ministry for more than 14 years, walking the streets of their community and going door-to-door sharing the Gospel of Jesus Christ. Together, they have also hosted various evangelism workshops to further equip the disciples of Christ for the call of the Great Commission found in Matthew 28:19-20. When Blake and Melecia minister in dance together, as husband and wife, they are known as Anointed Hands. Blake and Melecia have been married for over twenty five years and now desire to teach other Christians how to build their marriages on "A Solid Foundation" through Jesus Christ our Lord. Blake and Melecia reside in Flint, Michigan with their three children. They are faithful members of Canaan Baptist Church where the Rev. Charles E. Roots is Pastor.
"We truly thank God for Kimberly Stewart and the Christian Living Books family. They are anointed, professional, friendly, knowledgeable, flexible, caring, considerate and consistent. They offered us excellent service! The Holy Spirit led me to their website and the first thing that impacted me was the anointing of God that flowed through the web page. After feeling the peace and presence of God, there was NO doubt, I knew my prayers had been answered. God, Himself, had chosen CLB as our publisher for such a time as this. Kimberly is one of kind. She is God sent, Spirit led and gifted! We are so grateful to God for connecting us to such an amazing group of people, people that truly care & have a heart for God, and a heart to help others bring their dreams to fruition! 'Now to Him who is able to do exceedingly abundantly above all that we ask or think, according to the power that works in us, to Him be glory in the church by Christ Jesus to all generations, forever and ever.' Ephesians 3:20-21. Amen. Thank you Mrs. Stewart and Christian Living Books." -Rev. Blake and Melecia Scott