Bishop C. H. Mason and the Roots of the Church of God in Christ
9781562294519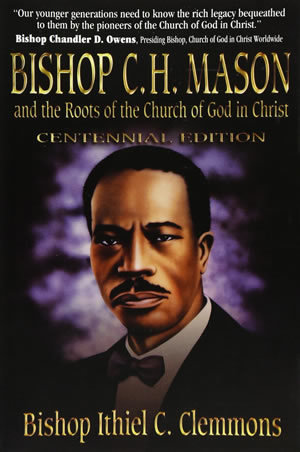 The Church of God in Christ (COGIC), the first major denomination to spring from the fires of the Azusa Street revival, profoundly affected the history of the black church. Its tremendous influence can be traced to the dynamic spiritual life of its founder, Charles Harrison Mason.
The son of a slave and a leader in the holiness movement of his day, Mason traveled to Azusa Street in 1907 where he received the baptism of the Holy Spirit. Returning home, he discovered that visions, spontaneous healing and deliverance followed him. A new power accompanied his preaching, and he experienced freedom from former limitations.
Mason's vibrant spiritual life enabled him to lead a fledgling movement from its infancy to a powerful, prophetic community over the next fifty years. Beginning in the rural South in the decades following the Reconstruction Era, the denomination gradually moved into urban areas during the 1900's. No matter where its ministers, however, the COGIC Church holds in tension the dynamics of holiness, spiritual encounter and prophetic Christian social consciousness.
Facing the challenges of our generation, the COGIC Church desires to maintain the legacy of its founder as it prepares for another century of work and witness.
"Our younger generations need to know the rich legacy bequeathed to them by the pioneers of the Church of God in Christ." Bishop Chandler D. Owens
"This valuable book should be in the hands of every member of the Church of God in Christ." Bishop C. L. Anderson
"God gave Bishop C. H. Mason an anointing to preach powerfully, to heal the sick, and to sing out in spontaneous worship. May we covet the same anointing that transformed thousands in his day." Bishop J. Neaul Haynes
"We are the descendants of a mighty move of God that began at Azusa Street. This book will help us to pass on an equally dynamic spiritual life to our successors, taking the Church of God in Christ into the next century." Bishop P. A. Brooks
"Church leaders would do well to emulate the dynamic spiritual life of our founder; Bishop C. H. Mason." Bishop O. T. Jones, Jr.
"Every pastor in our denomination and beyond should have a worn and wellread copy of this book." Bishop Charles E. Blake, Sr.
"Bishop Clemmons reminds us that our denomination was forged in the fires of a pentecostal revival that continues to impact our society today." Bishop Gilbert E. Patterson
"Our roots establish our legacy and provide the springboard for the future. This documentation is a must for this generation and the generations to come." Mother Emma F. Crouch, Supervisor, Women's Department, Church of God in Christ, President, International Women's Convention
"This is must reading for every seminary student preparing to minister in the Church of God in Christ. This will be extremely valuable to students of church history regardless of denomination." Dr. H. Vinson Synan, Ph.D., Dean of the School of Divinity, Regent University
"Finally, a documentary written by a black historian/theologian and a lifelong member of the Church of God in Christ. Bishop Clemmons' perspective is insightful, informative, and refreshing." Dr. William C. Turner, Ph.D., Professor of Theology, Duke Divinity School, Duke University
"Allow Bishop C. H. Mason's vision to grip you, to challenge you, and to change you." Raymond C. Pierce, J.D., Deputy Assistant Secretary, U.S. Department of Education, Office for Civil Rights
ISBN:9781562294519
Author:
Bishop Ithiel C. Clemmons, Ph.D.
Binding:Paperback
Page Count:242
Trim Size:6x9