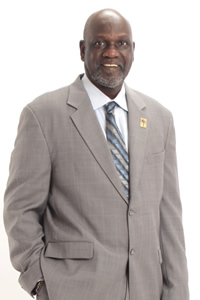 Jimmy Garvin is the president of the Jimmy Garvin Legacy Foundation. It's mission is to prepare kids for the challenge of golf and the challenge of life. We strive to provide kids with a place where they can routinely increase their learning skills while playing golf and be instilled with etiquette that is the cornerstone of the game. In addition to developing these young boys and girls as higher learners, they will acquire the values associated with integrity, honesty, sportsmanship and much more.
Born to a migrant farm worker and a timber logger of humble means in Immokalee, Florida, Garvin began his mythical athletic journey playing baseball and beating drums for the Collier County, Florida public school system. At the early age of 16, Garvin was Collier County's first African American percussionist to be honored with the state of Florida's prestigious John Phillip Sousa award for band excellence.
A star baseball pitcher and Collier County's three sport All American, Garvin was heavily recruited to study music, play basketball, football and/or baseball by several universities and colleges throughout the country. Finally, after much debate, his arrival in Washington was determined when Garvin accepted a full athletic scholarship to play baseball and attend Howard University under the tutelage of Chuck Hinton, former head Baseball Coach of Howard University and former Washington Senators' professional baseball player.A parental bond was formed that endures to this day.
Majoring in therapeutic recreation with a minor in secondary education and music, the seed to give back and help others was firmly planted. Garvin excelled on the baseball diamond, was elected Co-Capitan of the baseball team and Dormitory President during his Howard years. His dream of a major league baseball career fell short when he was stricken with an arm injury that curtailed his professional baseball pursuits. Undeterred, Garvin turned his athletic focus to his new passion, golf. Driven by his relentless spirit to excel in all of his endeavors, Jimmy, as he is affectionately called, committed himself to the challenge and now we are at the precipice of witnessing history in the making.
Introduced to the game by his mentor, Chuck Hinton, Garvin quickly adapted his physical attributes to the game as an athletic endeavor while looking carefully at the career potential for this segment of the hospitality industry. Having begun his career in food service as one of a few African American managers with the Marriott Corporation's health care division, Garvin felt a real opportunity existed where he could combine these two passions as a potential career.
With a positive persistent attitude, dedication and a mind set to help others, Jimmy has realized unmeasured dreams, including being named President of Golf Course Specialists in 2007, and being inducted into the African American Golf Hall Of Fame in 2006.
Golf, once regarded as a privilege sport is undergoing a major metamorphosis and Garvin has had a major hand in its evolving access to youth in the Washington, DC area.
Jimmy Garvin is involved in a number of organizations and events that benefit the local and international community and has received numerous accolades, including receiving the Community Outreach Award and the Excellence in Education Award. Jimmy has created partnerships with Special Olympics, First Tee DC, Kids on Course Golf Program and sponsors an Annual No Cost International Golf Tournament. Jimmy provides summer jobs for youth and maintains the Interpretive Education Center, offering computerized educational materials for adults and students.
To all junior golfers, Jimmy stresses his five "P's", Planning, Patience, Persistence, Preparation and Possibilities, and wherever he goes he always chants his motto, Golf is the Carrot but Education is the Key.
"Legacy of a Common Man was my first attempt at writing a book. As for what to do, I had no idea. But, I knew that help was just phone call away. I called Christian Living Books and they held my hand every step of the way. CLB is a first class publishing company. They assisted with everything from writer's block, design layout, book cover, editing and a host of other things associated with the finished product. Our biggest concern was cost. Well, they make that easy for you with their assortment of payment plans. If the need ever arises when you have publishing needs, please call CLB. I guarantee you won't be sorry." – Jimmy Garvin