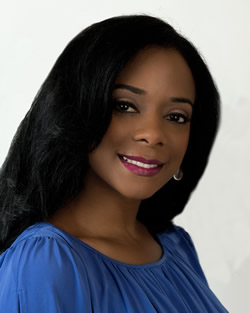 Muna Heaven was born and raised on the island of Jamaica. She is a New York based attorney in family law litigation and a Schreyer Honors Scholar from Penn State University where she earned her B.A. in French Language and Culture, her B.Sc. in Biology, and a minor in International Studies. Muna received both common law (B.C.L) and civil law (LL.B) degrees with a focus on International Trade from the McGill University Faculty of Law in Canada. She has studied abroad in France, Spain, and Belgium and speaks French and Spanish. In addition to her academic achievements, she has competed internationally in equestrian show jumping in Jamaica, France, Panama, Guatemala, and Canada.
In 2008, Muna became the proud mother of a beautiful little girl Savannah Rose (Savvy) and quickly noticed that many of the faith-based and other bedtime storybooks she read lacked characters to whom her daughter could relate. With Savannah as her muse, Muna created the Super Star series of children's books that speak to the robust empowerment of minority children.
The Super Star series addresses essential but often neglected themes in children's literature including practices of gratitude, belief in self, perseverance, faith, encouragement, and love – all vital to bringing out the best in your child – your Super Star.
Christian Living Books, specifically lead Kimberly Stewart is an absolute Godsend. From the very first day of our business relationship to the day I held my book, My Uncle Says I'm a Star, in my hands, Kimberly has been encouraging, patient, and professional. Simply outstanding service! There is no way I would have made it to this point of fruition without Kimberly's steady hand and mind all along the way: over every bump, revision, and setback turned setup towards a formidable product. Thank you, CLB, for being on this journey with me — Kimberly, you are exceptional. Warmest regards and immeasurable gratitude." -Muna Heaven