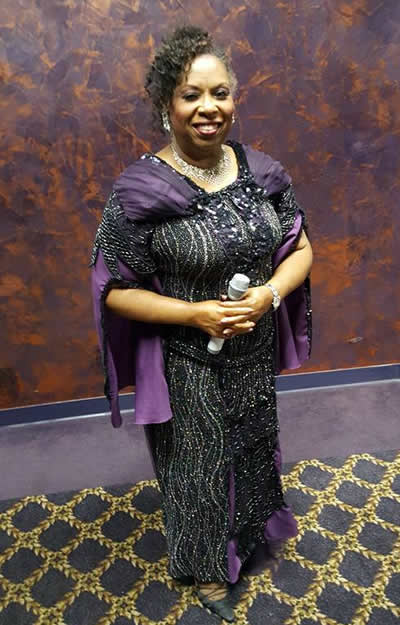 Singer, songwriter, actress and recording artist, TiaJuana Rountree was born and raised in Washington, DC. She currently resides in Bowie, Maryland and works as a Substitute Teacher in Prince George's County Public Schools. During her college years, TiaJuana studied Music Education with a major in Voice. Although her primary course of study was classical music, she made it her business to study and develop the vocal styles of Jazz, Rhythm & Blues, Broadway, and Gospel. She even performed briefly with the world re-known A cappella group, "Sweet Honey in the Rock."
Without a doubt, TiaJuana loves the Lord. She is a dedicated member of Evangel Cathedral in Upper Marlboro, Maryland – under the leadership of Bishop Don Meares – where she enjoys ministering as a Praise Team soloist and choir member. She has been a featured guest soloist at numerous churches, ministry/secular concerts and conferences, and has appeared in commercials on many television networks, promoting various products for the ministries of Bishop TD Jakes, Creflo Dollar and other infomercials throughout the United States. She also shares her singing gift by serving as a private vocal coach to aspiring singers.
TiaJuana has always loved performing in live stage musicals and dramas. She has won several awards and recognitions. The most memorable are as follows: 2012 nomination with the Maryland Theatre Guide's Reader's Choice Award for Best Actress in a Children's Musical in "Rumple Who;" 2010 Washington Area Theatre Community Honors (WATCH Award) for Outstanding Featured Actress in a Musical in "Bye Bye Birdie; " and a 2007 WATCH Award Nomination for Outstanding Lead Actress in a Play in "Proposals."
TiaJuana and her husband of more than 38 years, Eric Rountree, have three children, Kaloah, Erica, and Jason, and six grandchildren.
"My childrens' book, Stephanie Starks Meets the Dream Queen, is truly a dream come true. I started writing it in 2011. However, I dropped the ball and didn't pick it up again until 2015. When I told my granddaughters that they were in the story, they insisted that I read it to them. They liked it so much, I knew I had to finish it. But how? Then, when my dear friend, Edith Jones, finished writing her book, she invited me to sing at a workshop that was sponsored by her publisher, Kimberly Stewart of Christian Living Books. That workshop was the icing on the cake for me. Kimberly not only convinced me that I could do this, but she reassured me that I had more than one book inside me. With her heartfelt advice and assistance, I was able to see the light at the end of the tunnel. I am so very pleased with the final product. It is absolutely beautiful – everything I hoped for. Thank you, Kimberly Stewart and CLB, for helping to make my dream come true." -TiaJuana Rountree