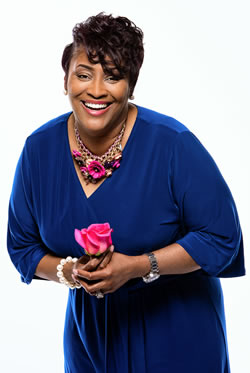 Lady Kemp exemplifies the love of God and undoubtedly embodies the Proverbs 31 woman. Through God's healing power she testifies "Prayer Works." Lady Kemp serves as the Women's Ministry Administrator; she has a passion for encouraging women to be stronger emotionally, mentally and spiritually. She also provides leadership on the Board of Scholastic Education of Greater Harvest Christian Center where she devotes her time to developing educational strategies to help students win. She serves on the Board of Directors of Bakersfield Senior Center of Kern County.
She has been married to her friend, Pastor Vernon Kemp, for over 25 years. Lady Kemp has gracefully and humbly served with her husband at Greater Harvest Christian Center, Church of God In Christ for 16 years. God has blessed this union with gifted and anointed children. A licensed Evangelist, God has graced her to travel and minister the gospel of Jesus Christ.
She is been a full-time employee for Kern Regional Center in Bakersfield, CA where she is a Social Worker for the Special Needs population of Kern County. Lady Kemp earned her Bachelor degree in Liberal Studies from California State University Bakersfield in 1996.
Along with her spiritual accomplishments, God has given Lady Kemp a vision to serve and foster youth within the community in the area of education. Lady Vicki Kemp is the founder of Harvest of Hope Educational Services which was birthed on August 9, 2016. This educational component is a branch from Greater Harvest Christian Center. Lady Kemp is a lover of young people and yields herself to be a vessel used by God for His glory. She has a Kingdom agenda to reach lost souls for Christ while also challenging and empowering youth to be successful in education. Her unwavering faith, compassion, selflessness, and incessant prayers speak volumes of her character and epitomize an undeniable and genuine love for God and for His people. Lady Kemp's favorite statement is "There is absolutely nothing too hard for our great God." If you believe you can, by faith you will.
"Before I can talk about my book, Better Than Yesterday, I have to talk about the amazing, creative and diligent publisher, Kimberly Stewart. Her patience, wisdom and kindness helps an author to get through the process. When I became anxious about the book God assigned me to write, she was my calm. Thank you for bringing the dream that I had in my head and my heart to life. The book that I received was just absolutely professional. The work of Christian Living Books is powerful. Thank you so much for your creative mindset and your ability to make a dream come to fruition, magically." -Lady Vicki Kemp