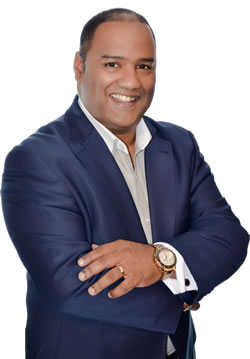 Dr. Glenn Arekion is a uniquely gifted teacher and conference speaker. He conveys the Word of Truth in a simple, yet dynamic and motivational way. With over two decades of experience, he travels the globe mentoring leaders, equipping businessmen and ministering to people, helping them to fulfill their purpose in life. He is a captivating and much sought after speaker.
Glenn is dedicated to transforming lives from defeat into victory. His teaching materials are sold in many countries and are very popular among those with a desire to grow strong in faith and experience great success. He is also the author of 28 books.
Glenn is apostolic in his thrust of ministry. He believes in establishing churches, teaching and training pastors in their calling. His television program, Faithlift, airs twice a week on The Word Network. Faithlift is also a daily television program on the Faithworld Channel in the U.K. and all over Europe.
Born in Mauritius, Africa, but raised and educated in London, Glenn holds Master's degrees from Life Christian University in Florida and International College of Excellence in Chicago. He also holds a doctorate degree in theology from the prestigious Destiny College in Florida.
Glenn and his beautiful wife, Rosanna, have three children — Lisa, Ethan and Jodie — and reside in Kentucky.
"I thank the Lord for Kimberly Stewart in enabling me to do what God called me to. I love people who can work with the spirit of excellence at a fast pace. The key for me was the pace of getting the job done in an excellent manner. I am always on the move and I have not always found publishers who would work at my pace. Christian Living Book is one of them. The end product is professional, classy and one that you would be proud of. The quality of the product is also great to build and spread your brand. I have no hesitation recommending CLB for your next project. May God richly bless and advance CLB and Kimberly as they help us to advance the Kingdom, the Word and the ministry."