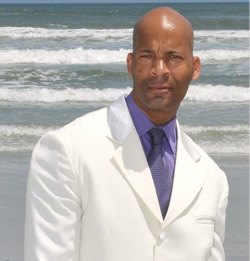 A retired Chief Master Sergeant from the US Air Force, Mark developed a love for writing after transitioning to civilian life. He first wrote the Career Progression Guide for Airmen series.
Through his faith, Mark turned to the Christian Living genre, penning Chapter and Verse: Daily Devotions for Your Work Week and Lord Teach Me How to Pray. Leading Laymen ministries – usher, television, media, information technology and a men's group – to founding and ministering Plug and Pray Facebook page helped him to build and spread his faith.
Mark is a member of the First Assembly of God in North Little Rock, Arkansas. He also is a Champion of Hope, partnering with Joel Osteen Ministries. His latest book, I Like to Start with Something Funny, is a collection of short, witty Joel Osteen jokes that bring joy and encourage laughter.
"Thank you for stretching, motivating, driving, inspiring, encouraging, and making my newest book, You Only Live Once better! CLB truly lives up to its core value and guiding principles and makes one's publishing dream come true!" -Mark Overton