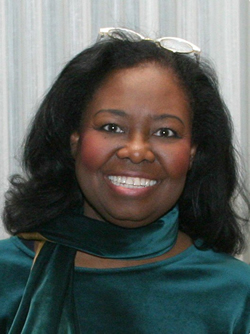 Nevilla Eloise Ottley-Adjahoe is the founder and principal of the Ottley Music School, which was established in 1973. She is an author, conductor, pianist, organist, and music educator for over 50 years. In that time, she has helped countless students and musicians not only realize their full musical potential, but also develop habits that have qualified them lead successful careers in various occupations.
Nevilla was born in Trinidad, to Neville Ethelbert Ottley and Myra Eloise Grosvenor Ottley. The recipient of a rich musical inheritance from both sides of her family, at age four she sang as a soloist on the children's pilot radio program for "Your Story Hour" with "Uncle Dan and Aunt Sue" still aired today on radio and online at yourstoryhour.org, and she also started piano lessons with her mom and at age ten with June Simms, her father's accompanist and a pivotal person in her development as a pianist.
Memorable experiences in those early school years were her parents and Nevilla attending concerts by famed contralto Marian Anderson and noted duo pianists Ferrante and Teicher, and daily listening to the organ practice of Dr. Harold Hannum on her way home.
Back to Trinidad, she studied and successfully took examinations annually of the Associated Board of the Royal Schools of Music London (RSML). She had completed an associate degree in Music and Spanish at Caribbean Union College, and all eight grades in piano performance and music theory in the RSML. She studied organ for three years under Professor Allan Carr, at the Cathedral of Immaculate Conception in Port-of-Spain, Trinidad. She graduated from Andrews University (AU) in Michigan, with a B.Mus. degree in music education in 1971, and an M.A. in music history and organ performance under Dr. C. Warren Becker in 1972. She earned a master's of music degree in conducting in 1980 at The Catholic University of America (CUA) under Lloyd Geisler, associate conductor of the National Symphony; and Drs. Laura Jeanette Wells and Evelyn Davidson White, in choral conducting. Post graduate studies came from Maestros Herbert Blomstedt of the Dresden Staatskapelle; Lorin Maazel of the Pittsburgh Symphony in a cameo lesson at the Kennedy Center; and Dr. Robert Page of the Cleveland Orchestra, and Conductor Emeritus of the Mendelssohn of Pittsburgh (Pittsburgh Symphony choir). Ottley has produced masterworks including operas of black and white composers. Besides churches, she has been extensively involved in conducting choral groups, many with orchestral ensembles.
She as guest conducted several professional and community choral groups, including The Paul Hill Chorale in Washington, D.C., Arlington Metropolitan Chorus in Virginia, and the Cleveland [Ohio] Singers, in concerts of music of Black composers.
Ms. Ottley spearheaded the Washington, D.C. area's two-week William Grant Still Centennial Celebration in May 1995, which involved seventeen organizations including the Kennedy Center, the Washington Performing Arts Society, the Smithsonian, National Symphony Orchestra, the Nevilla Ottley Singers starring, opera singer soprano Janice Chandler and tenor John Gilbertson, the Ottley Music School, and George E. Peters SDA Elementary School Choir, held at the Kennedy Center, the historic Lincoln Theater.
From May 1976 to July 1997 Ottley produced and hosted the radio show "Classics of Ebony" featuring Black composers and artists of "classical" music over WGTS FM 91.9 at Washington Adventist University. She continued to produce music of Black Composers in the December Christmas programs with Dr. Adrian T. Westney, Sr., "Talking About Freedom" from 1997 until his passing in December 2009.
Since what she refers to as her "enlightenment," Ottley has presented a number of music seminars on "Black Composers of Classical Music from the Renaissance to the Present" at schools and churches.
She and a group of colleagues in the U.S. in 1992 started the Kwame Awards, which recognize persons of all races who have supported the arts and artists of color such as Marian Anderson, William Grant Still, Todd Duncan, Patrick Hayes, Katherine Duncan and most recently George Shirley, and in 2015 Dominique-Renee DeLerma.
Beginning as a teenager in Trinidad, Nevilla Ottley started her life of serving as an organist, pianist, choir director and minister of music for many churches in the USA. Her work in New York in 1967 included serving as one of the initial rehearsal accompanists for the famous Boys Choir of Harlem in Ephesus SDA Church. She still works with 2 churches each weekend.
She has received over a dozen awards, including the Lifetime of Excellence in Music Award from the Guild of Adventist Musicians in Washington and she was the 2007 Alumnus of the Year of the University of the Southern Caribbean, her first Alma Mater.
Ottley has authored several books for students on Black composers and performers. She is presently writing about strong women of the Bible, and is researching her family's genealogy and that of her husband's family, a quest that has taken them to England, the Caribbean and Ghana with what she refers to as "amazing results," all of which she is writing in a series of books. She has been featured in a genealogical documentary broadcast by the United Kingdom's Sky One, "So You Think You Are Royal," genealogical and historical research done by the famed Drs. Nick Barrett, genealogist and producer, and David Saul, historian and author.
Nevilla Ottley is married to Edgar E. Adjahoe, with one son, Jonathan Christopher Kwame Adjahoe, professional musician, photographer, and IT Specialist. She also has three stepchildren, Nigel Ricardo Hutchinson, Alfred A. Adjahoe and Alis Diane Adjahoe; and four grandchildren, Lauryn and Jonathyn Hutchinson, Jabril Hardinge Adjahoe, and Alexander Davon Adjahoe.
"I met Mrs. Kimberly Stewart at the Living Well Bookstore in Silver Spring, as she attended the book signing of two of her authors. I mentioned that I was looking for a publisher, and she was immediately ALL IN. She met with Mayme Holt, the co-author of our book, Ben Holt: Apostle of Musical Enlightenment, and I and got it published within TWO WEEKS… just in time for its presentation at the 2015 National Convention of the National Association of Negro Musicians (NANM), which was being hosted by the Ben Holt Memorial Branch of NANM in Washington DC. I would recommend CLB to anyone wishing to get their work done. The graphics are wonderful, as she works on several designs for you, and the layout is great. Check out Christian Living Books for your publishing needs today." – Nevilla E. Ottley