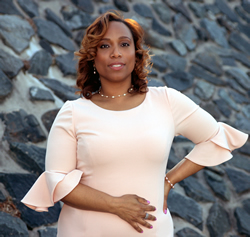 Nicole Morton is the former First Lady of a historic church. In addition to her administrative duties, she regularly planned women's ministry events, church initiatives and outreach activities.
Raised by her parents, along with her two brothers, Nicole has a very large, extended family that ranges from coast to coast. She was saved at a young age and was very active in church, participating in several ministries, including the youth choir, youth counselor, and youth usher/nurse ministry.
Nicole attended college to pursue a degree in Business Management and Organizational Development and currently works for a global firm as a Project Coordinator. She also assists her mother with wedding coordination and event planning.
She is the mother of two amazing sons who are both in college. She enjoys spending time with her family, attending concerts and Broadway plays, traveling, listening to music and her new interest, yoga.
"Thank you to Kimberly Stewart and the Christian Living Books, Inc. team for their hard work and dedication with assisting me with my first book publication, Chosen: A Lady's Journey from Called, to Crushed, to Crowned. They consistently operated in integrity and efficiency, and displayed kindness and patience from start to finish." -Lady Nicole Morton