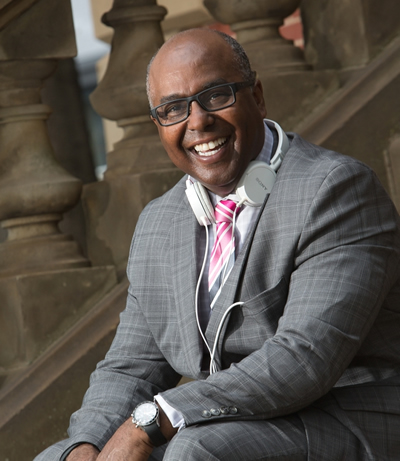 V. DuWayne Battle, Ph.D. is the Senior Minister of the St. Paul Baptist Church, Montclair, New Jersey, and the Director of the Baccalaureate Social Work (BASW) program on the Rutgers Camden and New Brunswick campuses in New Jersey. Born in Washington, District of Columbia, he earned the M.Div. and D.Min. degrees from Southeastern Baptist Theological Seminary, Wake Forest, North Carolina, and the M.S.W. and Ph.D. degrees from Rutgers University. He has done further studies at Oxford University and Princeton Theological Seminary.
In addition to Dr. Battle's 25 years of pastoral experience, his ministry has taken him to six continents, as well as extensive travels throughout the United States, where he has distinguished himself as an able preacher, teacher, and workshop leader. He is an innovative visionary leading his congregation to experience renewal through a mission focus involving worship, ministry, discipleship, evangelism, and fellowship.
Under his leadership at Rutgers, the undergraduate social work program has more than doubled, making it one of the largest and most diverse in New Jersey. Additionally, he serves as the faculty advisor for five student groups, including the Nu Omicron Chapter of the Phi Alpha Honor Society, the nation's largest social work honor society. Dr. Battle, who has traveled extensively speaking at conferences and providing training, is the program chair for the Southwestern Social Work Association. He is also on the NASW-NJ Committee on Diversity & Cultural Competency. His research interests include religion and spirituality and diversity and oppression. He has published in the area of religion and spirituality and is presently working on a project developing measures to evaluate courses on diversity, oppression, and social justice in schools of social work. Dr Battle is an advocate for increasing accessibility for people with disabilities, and he is leading an effort to raise awareness about domestic violence and $100k for the Krystal Skinner Memorial Scholarship Fund.
"Christian Living Books is more than an excellent publisher. It is a ministry. It is an extension of the work that I do through the local church and the ministry that I have as a traveling minister of the Gospel of Jesus Christ. Although I have been writing for most of my life, my work has been limited to articles or chapters in books that have been authored by others. Through this ministry, though, I am able to extend my ministry to the larger body of Christ and to the world. In my first book, Just James: 12 Keys to Living the Good Life, I have been given the opportunity to share with people everywhere the practical lessons for Christian living that are taken from the New Testament book of James. I am able to resource the body of Christ by making available to believers a tool that has proven useful in personal devotions, small group Bible studies, and programs of Christian discipleship. I praise God for the professional, personal, and providential care that Christian Living Books has provided for my dreams and goals in this great ministry together. In this age of information, technology, and literacy, Christian Living Books is going the distance "to equip the saints for the work of ministry, for building up the body of Christ" (Ephesians 4:12). I can only say to Mrs. Kimberly Stewart and the wonderful people at Christian Living Books: Thank you. Job well done! Praise the Lord!" -V. DuWayne Battle, Ph.D.